Post Falls
Lifestyle
Family Connect
Floor Plans
Holistic Wellness
Resources
Lifestyle
Services & Amenities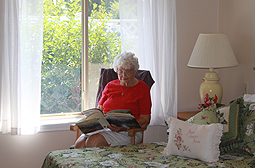 At Guardian Angel Homes, we focus on exceptional service and hospitality for each one of our residents and guests. Our goal is to provide for their every need, great or small. For some of our residents, that means little more than a friendly wakeup call each morning and healthy homemade meals or a steady hand to help them dial the phone. For others, it may mean assisting them with virtually every activity of daily living.
One of the very first ways that we individualize care for a new resident is by finding the right home for him or her on our campus. Each of our 5 homes on our Post Falls campus is unique from the others. Some homes are geared more toward our more independent residents, while other homes are a better match for those who need greater assistance.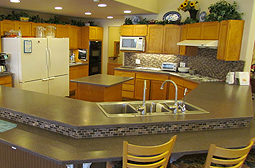 Regardless of which home a resident lives in, they will surely benefit from the wide variety of services and amenities we provide. Our campus boasts state-of-the-art security systems for residents with wandering tendencies, and our grounds are completely fenced and beautifully landscaped. Our backup power generators automatically engage in the event of a power outage to keep the lights on, the air comfortable, and other important devices functioning. The green thumbs among our residents have opportunities to participate in three seasons of light gardening in our on-site greenhouse. Activities and outings are coordinated and include the usage of our specially-designed and wheelchair-accessible van or bus, known as the Guardian Angel Express. Daily in-home activities are planned and directed by our activities staff. Please take a minute to view a sample activity calendar by clicking the link below.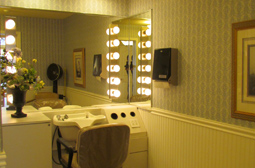 Our dining experience brings excellent nutrition into our residents' social and psychological well-being. Meal times are an enjoyable part of our residents' days and our cooks take great pride in the taste and presentation of every meal. Our menus are planned by our Registered Dietitian and are altered for those residents with special dietary needs. Daily baking in each home helps to create a home-like atmosphere and stimulate the appetites of our residents. Click on the link below to view a sample menu and give your taste buds a treat!
Sample Daily MenuSample Weekly Menu
Licensed nurses are on duty seven days a week to ensure that the best care and comfort are provided to each resident. Staff members are carefully screened and ready 24 hours a day to provide personal assistance in a dignified and respectful manner. We truly consider our staff members as guardian angels.
To view more details about the services and amenities we provide, please explore the options listed above or come visit and tour our campus to see for yourself the lengths we go to for each one of our residents.
Get Started
We would love to connect with you and help you discover the right home for yourself or your loved one. Get in touch to schedule a tour today!