The Science of Brain Health , The Care of Angels
Guardian Angel Homes has the finest Independent, Assisted Living, & Memory Care homes in the nation! We are one of the first in the industry to embrace a truly unique approach to Brain Health and Alzheimer's & Dementia Care by incorporating The Enhance Protocol® into the care of every resident.
The Enhance Protocol® is currently offered at the Richland Washington location. It is coming to the Hermiston Oregon, Liberty Lake Washington, and Post Falls Idaho locations approximately October 2021.
The Enhance Protocol®: Red and Near In-frared Therapy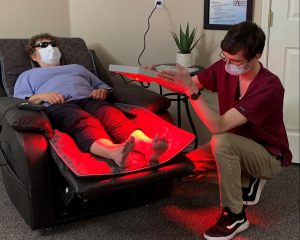 Red and near infrared light therapy has been studied and tested with great scientific rigor. A high-quality red and near infrared-light device uses a medical grade LED (light emitting diode) to deliver therapeutic wavelengths of light. All that is required is to sit in front of the light device. Treatment is easy, painless and has virtually no side effects. These red and near infrared wavelengths of natural light stimulate the mitochondria in your cells. Through a series of complex chemical reactions, the light therapy delivers photon energy, and together with nutrients and oxygen that is delivered to the cell—energy is created through the process of cellular respiration .
Benefits of red and near infrared light therapy can include:
Antioxidant Production
Improved Circulation
Improved Circulation of Lymph System and Reduced Inflammation
Improved Sleep
Increased cerebral blood flow
Enhanced cognition
Increased executive function such as recall
Contact us today!
We would love to speak with you about how Guardian Angel Homes can assist you or your loved one.
If you have any questions, would like to tour one of our homes, or receive a consultation with one of our specialists, please fill out the form below.
If you prefer to speak with someone, please call us at (800) 745-4120.