The Science of Brain Health , The Care of Angels
Guardian Angel Homes has the finest Independent, Assisted Living, & Memory Care homes in the nation! We are one of the first in the industry to embrace a truly unique approach to Brain Health and Alzheimer's & Dementia Care by incorporating The Enhance Protocol® into the care of every resident.
The Enhance Protocol® is currently offered at the Richland Washington location. It is coming to the Hermiston Oregon, Liberty Lake Washington, and Post Falls Idaho locations approximately October 2021.
The Enhance Protocol®: Interactive Metronome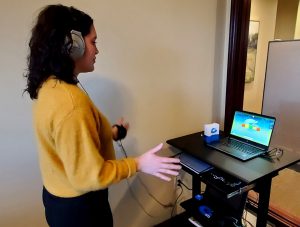 The Interactive Metronome® (IM) consists of a steady beat and several types of buttons (hand held, foot pad, etc). The goal for the client is to match their physical pattern with the pattern of the beat down to the millisecond for a sustained amount of time.
Cognitive ability is linked to mental processing speed!
Cognitive and behavioral changes noted after 12 sessions of Interactive Metronome:
Increased sustained attention over time
Increased ability to tune out distractions and multi-task
Improved working memory
Improved impulse control and self-monitoring
Improved mental processing speed
Improved problem solving/reasoning skills
Good candidates for Interactive Metronome are people who are experiencing:
Poor initiation of action
Impaired attention
Poor cognitive speed
Poor mental stamina
Poor planning/organization
Poor sequencing
Poor time management
Poor memory skills
Reasoning/abstract thinking
Impulsivity
Poor auditory processing
Poor word finding
Poor fine motor skills
Poor motor planning
Interactive Metronome has shown improvements in the following areas of the brain: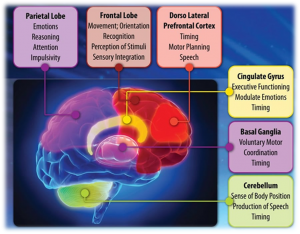 Interactive Metronome technology improves the efficiency of a person's internal brain clock and temporal processing ability. This increased neural efficiency results in more efficient brain connectivity, communication, and synchronization via increased integrity of the brain's white matter tract-based communication system, producing more efficient and effective communication between critical brain networks.
Contact us today!
We would love to speak with you about how Guardian Angel Homes can assist you or your loved one.
If you have any questions, would like to tour one of our homes, or receive a consultation with one of our specialists, please fill out the form below.
If you prefer to speak with someone, please call us at (800) 745-4120.